This post is also available in: Nederlands (Dutch)
IPL

 Hair removal & skin therapy in Den Haag: Enjoy permanent results

ASPA Den Haag is now collaborating with a registered paramedical specialist and skin therapist from Cosmetique Totale, the Dutch market leader in high-quality medical skin treatments. This means that we are now also a go-to-salon when it comes to IPL hair removal Den Haag and various other types of laser skin therapy.
​​

The safest & most effective laser treatment yet
Are you tired of painful waxing, ingrown hairs, embarrassing moments at the beach or having to constantly shave to manage you hair? Then permanent hair removal is the ideal solution for you! 
State-of-the-art technology 
Cosmetique Totale uses IPL laser technology. IPL stands for 'intense pulsed light and uses heat energy to destroy hair cells. Compared to previous lasers, the Elos and Alexandrite lasers, which are used by skilled skin therapists, are less painful and much more effective.
Blond and grey hair removal
In fact, these lasers are the state of the art when it comes to permanent hair removal. This means that even blond, red and grey hair, as well as peach fluff are effectively removed. Whether fine or coarse hair, armpits, upper lip, groin or the whole face – the IPL hair removal is safe and yields lasting results. Moreover, the lasers also boast a 3P-cooling technology, which makes the treatment more comfortable. In addition, permanent hair removal with an IPL laser is a customised treatment. In fact, your skin will be carefully assessed and the best suitable method will be chosen for you. Schedule a consultation today to find out what treatment is best for you!
IPL hair removal in a nutshell 
The IPL method destroys hair that is in the growing phase to 80-90%
On average, you need 6-8 treatments for best results every 6 weeks
Less painful thanks to 3P cooling technology
Effective on every hair colour, hair thickness, skin type and area of treatment 
Experienced & certified skin therapists
IPL hair removal is covered by many health insurances 
Suitable for sensitive skin types 
Laser skin therapy
Remove pigmentation & melasma
The Elos' laser's light impulses break down the pigment that makes up pigment spots and melasma. The results of a recommended 3-5 treatments every 6 weeks are dramatic! Additionally, after the laser treatment, the pigmentation will gradually fade or fall off the skin in the form of a crust. The results include a more even skin tone, reduced redness and overall skin rejuvenation. Lastly, the IPL laser also effectively treats sun damage, pregnancy masks and age spots!
Look younger, fresher and more relaxed 
The eMatrix laser treatments are wonderful natural alternative to face lifts. Contrary to Botox or fillers, your skin is tightened and rejuvenated without the need for body foreign substances or surgical procedures. Not only is this face lift alternative completely safe, you will also be astonished by the results. After the treatment you will notice:
A reduction of wrinkels & fine lines
Skin tightening
Overall better skin structure
Effective removal of age spots
Safe removing of any type of scars
Successful reduction of any skin imperfections
Reduce acne (and acne scarring) safely and professionally
This treatment targets the acne bacteria directly and the two main causes of acne: thickened skin and blocked pores. A a matter of fact, the eMatrix laser uses fractionated radio waves that create small holes in the upper skin layer. Consequently, the controlled and purposeful damage to deeper skin layers helps the skin rejuvenate and activate the body-own recovery. This process of healing from the inside is referred to as "sublative rejuvenation".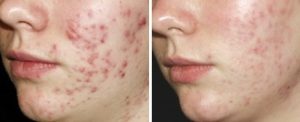 Acne removal in a nutshell   
The acne bacteria is targeted which reduces infection 
Supports the natural recovery process of the skin
Feels like small pricks
Depending on the type of acne 6-10 treatments every 1-3 weeks is required
Health insurance coverage
Effectively treat cuperose, rosacea & broken capillaries 
Cuperose is a skin condition that shows itself through redness, dry and sensitive skin as well as broken capillaries. Sufferers also often experience tightness and itchiness. In fact, Rosacea is cuperose in combination with acne. Both skin conditions are physically uncomfortable and can lead to diminished self esteem. The treatment begins with a disinfection of the area and an application of a cooling gel. Thereafter the Elos laser burns the broken capillaries. They close and consequently become invisible. 
Through systematic targeting, redness disappears and the skin looks more even, healthier and younger. After 1-5 treatments with an interval of 4-6 weeks, a skin improvement of 50-75% can be expected. Very small capillaries can disappear after the first treatment already. Many health insurances cover the treatment of these skin conditions.
Removing scars & stretch marks
An IPL laser treatment reduces not only the visibility of the scar, but can also reduce pain or irritation. Moreover, discolourations are safely and effectively reduced, leaving you with a more evenly toned skin. Conclusively, the types of scars that can be effectively removed are:
Stretch marks
Surgery scars
Burn marks and scars
Acne scars
In most cases covered by health insurance
Tattoo removal: the PicoPulse4 is effective on every skin type and colour of ink
The PicoPlus 4 laser fires a light pulse every picosecond (that's even shorter than a nanosecond!), which breaks down the tattoo ink into smaller particles. Consequently, the body is now able to remove these small ink particles naturally. Thanks to a complimentary cooling mechanism (a consistent cold air stream of -4C), the IPL laser treatment is now less painful then ever before. As state-of-the-art technology, the PicoPlus4 successfully removes every colour of ink on every skin type!

Laser treatment of hand / foot nail fungus
The Elos laser uses a combination of light and radio frequency. The heat energy reaches the nail as warmth and kills the fungus. The affected nail will slowly grow out and a smooth nail will grow out. This process can take several months. To effectively treat nail fungus a minimum of 3 treatments is required. In serious cases more treatments are necessary. The laser treatment only takes a few minutes and feels like a few nasty pricks.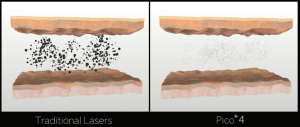 Professional & experienced skin therapists: IPL hair removal Den Haag  
All Cosmetique Totale therapists have completed a skin therapy degree, are members of the Dutch Association of Skin Therapists (NVH) and attend monthly training sessions. In addition, the company uses only state-of-the-art, scientifically proven medical tools and products. Their equipment and treatments are CE- and FDA-certified.
Claim your ASPA Den Haag skin treatments cost from your health insurance!
Whether you are looking to get rid of unwanted hair with IPL hair removal Den Haag or want to treat scarring or acne, find out with your health insurance if they cover the treatment. Because Cosmetique Totale meets all the necessary legal requirements, many of your medical skin treatments are covered by health insurance. Click here for a list of costs covered by your health insurance provider.