This post is also available in: Nederlands (Dutch)
NEW: Quanis dermafiller treatment – An innovative facial treatment to nourish the skin directly from the inside out!
 Quanis dermafiller
    30 min             €42               
Book now
How it works?
By inserting hyaluronic acid with innovative pads?! This is now possible with the latest Quanis dermafiller treatment. This brand new treatment is a unique treatment concept to make the aging skin look fresh and radiant again. The moisture balance is successfully restored, as a result of which fine wrinkles are replenished from the inside as a result of dehydration. The treatment also brings the elasticity back into the skin.
Quanis Dermafiller is made up of micro needles of crystallized hyaluronic acid. The size of the crystallized hyaluronic acid micro needles is 200 or 300 microns, which makes penetration and absorption through the skin considerably more comfortable, easier and more effective. Hyaluronic acid in its natural form has a large molecular structure that makes it very difficult to get into the skin. Quanis Dermafiller contains soluble micro needles made of hyaluronic acid crystals. These penetrate easily into the skin, dissolve and then ensure optimal functioning.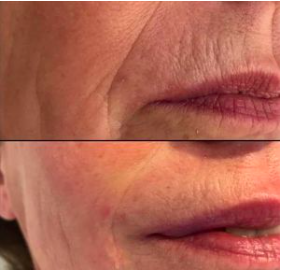 How does it feel?
When Quanis Dermafiller is applied you will feel a very light stimulating sensation by penetrating and dissolving the micro needles in the skin. The hyaluronic acid micro crystals in the skin restore the moisture balance so that the fine wrinkles that are caused by dehydration, from inside again are filled up and gives the skin its elasticity back.
Quanis Dermafiller contains not only hyaluronic acid, but also collagen and vitamin C. Our microneedles contain only natural substances and Quanis Dermafiller does not contain fragrances, dyes, preservatives, alcohol and is not tested on animals.
The treatment
The first treatment is carried out in the salon by the beautician, after which you get a set home to continue the treatment. During the treatment in the salon, the skin is thoroughly cleaned first. After cleaning, the Quanis Dermafiller treatment is started. The gel sheets then stay on the treated area for 20-25 minutes after which we rinse with water.
After treatment
In order to achieve the best possible result, we recommend that Quanis Dermafiller be used at least once by a professional skin therapist. After this treatment you can maintain the result weekly with Quanis Dermafiller Home.
For everyone between 25 and 50 years. This treatment can be used throughout the summer and does not damage the skin.
No you do not suffer from downtime. You can experience at the most light redness immediately after the treatment, but this will automatically disappear within a few hours.