This post is also available in: Nederlands (Dutch)
Why we fell in 
♥️

with

 
Jane Iredale makeup
Finding the right makeup is a science in itself, right? Well, we're about to help you out a bit by sharing a wonderful discovery we've made: Jane Iredale makeup.
As a professional and experienced beauty salon, we want you to look and feel beautiful, but we also insist on only using products that are good to your skin. In fact, we believe that a beautiful appearance should never come at the cost of your skin's health. Sadly, many mainstream brands don't live up to this expectation and use ingredients that do provide cover, but end up harming your skin. So, we're ecstatic to have found exactly what we've been looking for: Qualitative skincare and a premium makeup united in one product!
Read on to find out our very own 5 reasons why we never looked back after finding Jane Iredale makeup.
1. Jane Iredale mineral-based makeup is suitable for all skin types
Thanks to its simple but high quality ingredients and its mineral base, Jane Iredale makeup is suitable for any skin type. The brand boasts a diverse variety of shades, which is why we're sure that you'll easily find the foundation that suits your skin best. The PurePressed® Base Mineral Foundation is also anti-bacterial, which further protects your skin and significantly increases the overall lifespan of the powder itself. Double win, we say.
The go-to brand for sensitive skin
We found that Jane Iredale makeup is so nourishing and fortifying, that we started to successfully recommend it to all our clients who have very sensitive or irritable skin or suffer from acne or rosacea. Jane Iredale's foundation makeup is also the go-to brand after cosmetic procedures, as it doesn't clog the pores, reduces redness and speeds up the healing process. Sensitive skin or not, oily or dry, Jane Iredale has literally got you covered.
2. Jane Iredale makeup is a real multitasker
Wouldn't it be great to have a makeup that can give you a light foundation and one that provides you with a full coverage for an evening gala or photoshoot? Behold! Jane Iredale seems to have a sixth sense when it comes to our makeup expectations. May we introduce: your everyday companion and a foundation that's even more reliable than the taxman.
Your everyday companion 
The PurePressed® Base Mineral Foundation REFILL is an oil free and weightless mineral foundation that can be applied in several layers through using a brush. So depending on what your daily needs are, you're able to gradually build to a higher coverage. Because which skin is the same every day, right? We also found that Jane Iredale makeup really soothes your skin while you're wearing your foundation. In other words: it just feels great! And although it also feels really light, it's incredible powerful, especially when it comes to protecting you from harmful UV rays.
Anti aging & eco friendly
But this foundation also has anti-aging properties and is very long lasting without transferring to your clothes (or anything else for that matter) due to its high resistance. It's natural antioxidants (Pine Bark Extract and Pomegranate Extract) take even more care of your skin, leaving it protected and refreshed. And another highlight?! Jane Iredale created an eco-friendly, refillable compact made from recycled plastic. Great for your skin and even better for the environment…beauty that values sustainability and reduces unnecessary waste! What's not to love?
PurePressed® Base Mineral Foundation REFILL in a nutshell
No more shine in the middle of the day
No need to re-apply
Sheer and matte coverage
Crafted from micronised minerals
A broad spectrum of sun protection
Water resistant (up to 40 minutes)
A foundation so reliable that you could recommend it to your mother in law   
PurePressed® Base Mineral Foundation has such a high coverage that it works as a concealer, foundation, powder and suncreen in one product. That's 4 in 1! (..Let's just consider all the extra minutes we'll have to snooze in the morning here!). Its professional functionality makes this multitasker the perfect companion for traveling, camera work, demanding business meetings, exciting dates, never-ending summer nights and many more occasions where you would want flawless coverage. In a nutshell: A makeup that you can rely on in terms coverage and skincare.
In a nutshell 
Contains SPF 25 or SPF 17 (depending on your shade)

Is water resistant (up to 40 minutes)

Minimises the appearance of pores and helps disguise fine lines and wrinkles.

Is smooth and gives a bright appearance

Contains no comedogens

Is hypoallergenic and sensitivity-tested
3. Oh… the camera loves mineral makeup foundation 
Straight from Hollywood
Did you know Jane Iredale worked at Hollywood Studios before she created her own makeup brand? And this was exactly where she was inspired her to create her own product line. Yes, it was in the capital of films where Jane realised that a lot of models' and actresses' skin suffered profoundly from heavy makeup. Her solution? Mineral-based makeup! This brilliant type of foundation covers better than regular makeup while preventing an artificial look. Especially the Glow Time® Full Coverage Mineral BB Cream is ideal for HD filming, TV, photoshoots or other camera work. And, for the odd selfie of course 😉 In fact, this non-toxic and natural moisturiser covers so well that you don't even need a concealer. If you're serious about great coverage, this is your foundation!
Economical and effective 
We know that Jane Iredale makeup is more costly than mainstream products. But we also know that this is an investment worth making. And you'll be pleased to know that we found that a pea sized amount of cream will be sufficient for your whole face and neck portion. So, Jane Iredale foundation is not only long-lasting when it comes to enjoying full coverage, but is also a sustainable investment when it comes to your wallet.
4. Let's talk about the phenomenal sun protection
As an established beauty salon, we know that UV rays are among the most damaging factors when it comes to signs of ageing, fine lines and wrinkles. (Side note: Always! wear sunscreen, even in winter!) Generally speaking, there are two types of UV (ultraviolet) light that can harm your skin when no sunscreen is applied: UVA and UVB light. The good news? Mineral-based makeup provides a sunscreen for both types of light. And the foundations have an SPF starting at 15, with even higher protection factors available for specific shades. In fact, Jane Iredale managed to tackle the issue of sun protection so well that even the Skin Cancer Foundation recommends it for daily use. You should know that this is a big deal! Not many brands get this endorsement!
Natural refraction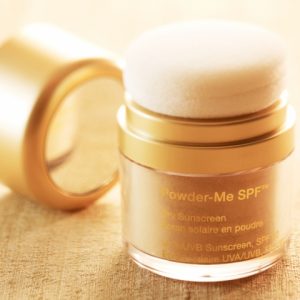 Ahh.. this is why mineral-based makeup is so great! The mineral ingredients Titanium Dioxide and Zinc Oxide physically block UV rays. They function much like tiny mirrors reflecting and refracting the damaging rays. If that's not makeup alchemy, we don't know what is! You enjoy full protection without the use of any chemicals or harmful substances that could irritate your skin. Summer, here we come!
5. Beyond the foundation: Lush Lipstick and mascara au naturale
Jane Iredale is not only a great brand if you're looking for a reliable foundation. This brand's lipsticks are super tasty, come in trendy colours and are really good for your lips. Really good? Yes! Really good! Imagine a lush, sun-kissed garden packed into a lipstick. The PureMoist® Lipstick, for example, is full of vitamin A&C, contains coffee seed extract for extra antioxidant protection, orange peel wax, ultra-moisturising avocado and sunflower seed oils and organic pomegranate and blackberry extracts that will make you want to sleep with your lipstick on. For us, and that we're certain of, it was love at first sight!
If Ariel the mermaid wore mascara, she'd wear this one!
Ahh, mascara! The one aspect of life where we don't mind all the drama, right? Jane Iredale's PureLash® Mascara is mild, water resistant and developed especially for sensitive eyes. So, just perfect for those of us who wear contacts or have sensitive eyes! It doesn't smear and it doesn't flake, which we love. But this mascara also works as a lash conditioner (wow, right!?) through its natural blend of Seaweed Lipids and Panthenol. Seaweed? Yes! Like we said: mascara fit for a mermaid! And, a true Jane Iredale product, this lash sensation contains no lacquers, no shellac and no petroleum based ingredients!
6. None of the bad stuff 
Now! This is one of the biggest reasons why we absolutely love Jane Iredale makeup. Not only are the ingredients of exceptionally high quality, Jane Iredale's products are also completely free of any harmful substances and harsh chemicals. This makeup is made from nature, with nature, and with nature in mind. When we say none of the bad stuff, we mean it!
No products where tested on animals (all cosmetics are certified by cruelty-free, including a recognition by both PETA and The Leaping Bunny Program)
Most products are gluten free and vegan
Recommended by dermatologists and plastic surgeons
Free of parabens
Free of artificial colourants and perfumes
Contain no comedogen (therefore eliminating the chance of acne breakouts)
Unlike many mainstream brands, Jane Iredale is 100% free of any mineral oils from the gas and oil industry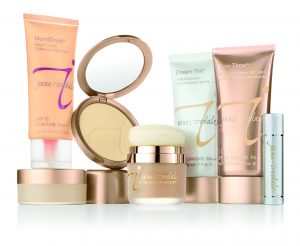 Are you joining us? 
Are you ready to give Jane Iredale makeup a try? Then go ahead an book an appointment at ASPA via info@aspadirect.com or give us a call at +31 (0) 70 345 0215. We're excited to tell you all about it and will help you find the Jane Iredale foundation, blush, bronzer, eyeliner, lipstick or mascara that accentuates and compliments  your natural beauty!
Learn, play and ask away at our ASPA professional makeup workshop 
Have you ever wondered what makes a perfect evening makeup? Or how to apply blush in a way that makes you look rosy and not like you just ran a marathon? Or perhaps you want to further perfect your makeup skills with insider tips from an established industry professional? Great! Call your family and friends and make an event of it!
Personalised & informative 
ASPA arranges personalised makeup workshops for 4-8 people that are guided by an experienced makeup artists who knows all the tricks of the trade. A wonderful opportunity to ask away, learn, play and find out what looks best on you! Call us at +31 (0) 70 345 0215 or email us via info@aspadirect.com to book your customised makeup session.